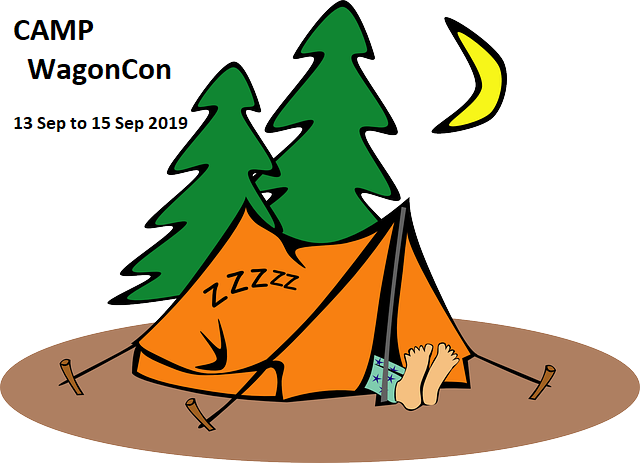 CAMP WagonCon 2020
WagonCon, Inc 501(c)3 presents:
This "purchase" reserves your spot at Camp WagonCon 2020! Payment will be required in full at the event.
PLEASE NOTE: PayPal will NOT be charged. That is expected. As long as you select the badge and accept it, it will be registered!
Below are the details of the event plan thus far.
* There will be additional details as we draw nearer to the day of the event.
When: September 25th – 27th, 2020
Where: 4k Farms in The Dalles, OR
What: A mini-gaming convention/camp-out held outdoors
Tickets & Price
* Maximum of 40 available spot at $40 for each person.
** First-come, first-serve basis at that time.
Cancellation Risks
* There is a reasonable chance that changes to the Governors current policy may force us to change or cancel the event. If that were to happen, we will reach out to people with as much notice as possible via email and Facebook
* There is a reasonable chance that Fire conditions in the area may force us to cancel the event. If that were to happen, we will reach out to people with as much notice as possible via email and Facebook
* These risks are part of why we are waiting to take payment until the actual start of the event, to minimize the chance of having to return funds should a cancellation be forced to occur.
Details:
* Maximum of 40 people attending the event
Sleeping Arrangements:
* There is space for family units to set-up tents, to allow for distancing the tent spacing will be pre-marked
Health / Safety
* Porta-potties and hand-wash stations will be provided
* Hand Sanitizer / Wipes will be provided (you are also encouraged to bring your own)
* Face coverings will be required when not eating/drinking
** All face coverings (whether disposable or reusable) must:
*** Be made with at least 2 layers of breathable material
*** Fully cover the nose and mouth and secure under the chin
*** Fit snugly but comfortably against the side of the face
*** Be secured with ties or ear loops and allow you to remain hands-free
*** At this time, based on guidance from health authorities, neck gaiters, open-chin triangle bandanas and face coverings containing valves, mesh material or holes of any kind are not acceptable face coverings.
*** If you are wanting to attend but lack compliant face covering please let us know and we can arrange to meet that need.
*Social distancing should be maintained as much as reasonably possible.
*** We acknowledge that around a gaming table a full 6' of distancing is not a feasible option.
*** We will be limiting the number of people at a given table to help maintain as much distancing as possible.
*** When not at a table we ask that people work to maintain a minimum of 6' of distancing from people not in your tent group.
Food & Water
* We are still working on details regarding food, if this will be a catered or un-catered event. And if it is an un-catered event what options we will have for providing cooking stations (dependent on fire regulations at the time).
*Potable water will be available. It should be noted that, just as last year, this water is not chilled so if you prefer cold water you will need to accommodate this yourself.

Please let us know if there are items, we did not cover that you would want addressed so that we can get you answers.
$0.00