Special guests for WagonCon 2020!
We are excited to have Jake Richmond (creator of Modest Medusa webcomic) and his brother Nick Smith coming to WagonCon this year.
Check out Modest Medusa at http://modestmedusa.com/
Founders of the game company Yeld Stuff, Nick and Jake are based in Portland, OR. Together they have created an all-ages RPG, The Magical Land of Yeld, that they will be running during the convention.
Check out Yeld Stuff at http://www.yeldstuff.com/
"Nathanael Cole (better known as the ol' NPC) is returning to his new favorite convention for the third time. NPC is a ridiculously motivated podcaster of geek-centric media, hosting on podcasts such as Have Movies Will Game, Bikers Dice & Bars, and the new HAMMERCRAWL! podcast - the latter two of which are produced by his own Breakfast Puppies production company. When not podcasting, he rides his motorcycles throughout the great Pacific Northwest, and somehow finds time to work on producing small-press role-playing games such as Cannibal Contagion, Motobushido, and the upcoming Gattaibushido:FUSION! He'll be at the convention morning to nightfall and beyond, and is excited to be back for more Wagoncon awesomeness."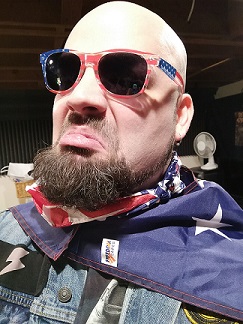 Paul Abeyta is excited to be back at Wagon Con. Paul is a game designer and actor mixed with Geeky tastes and a love of improv comedy and Karaoke. He has a double degree in European history and a love of all things British. He also has a love of Noir films and 1930's music. This year he is excited to bring both Turn of the Card with the new world setting "The Good, the Bad and the Orcish. The fantasy western setting. He is also excited to play-test a new dice based rpg based around a Magikal 1940's Noir world. Come check out Portland Noir.
When not gaming and performing Paul, explores his new home the Pacific Northwest and watches the rain fall, drinks a good cuppa tea and naps like a house cat, or sings show tunes! If you see him at con, come on up and say hello, he loves to talk about history, movies and gaming!
Turn of the Card: Is a dice-less, storytelling role-playing game. That uses Tarot cards for resolution. It is a universal system and can be played in any setting you choose. Cons around the Pacific Northwest have seen, Super Heroes, Victorian Steampunk meets Horror, The end of the world apocalypse, Weird Fantasy Western, Colonial horror and even a game based on the TV Show Supernatural, here at Wagon Con players will be introduced to a High Adventure, setting that takes Napoleonic Europe, Musketeers, Pirates, Flying Ships and mixes them into a fun fusion of a world that is brimming with adventure.
Come play Sky Pirates of the Steam Age! Turn of the card can be found on both Face book as Turn of the Card or and at the website